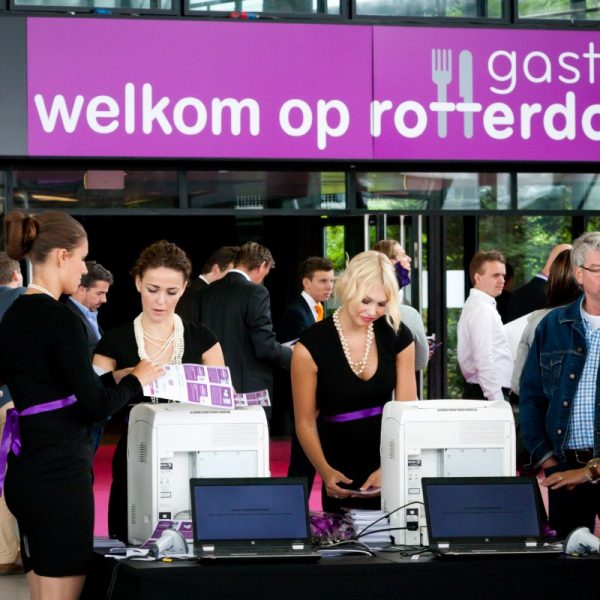 With more than 270 exhibitors, 125 program components and various theme pavilions, Gastvrij Rotterdam was in 2015 again the meeting place for the entire hospitality industry. More than 9.400 professionals from the hospitality industry visited the second biggest hospitality tradeshow from the Netherlands at Rotterdam Ahoy.
The interest for Gastvrij Rotterdam keeps on growing: for the second year in a row, the number of visitors grew and the exhibition area had to be enlarged because of the growing amount of booked square meters. There were also a lot of new initiatives: the Dutch final of the Bocuse d'Or took place during Gastvrij Rotterdam, the election of the 'Mooiste (Klassieke) Bar van Nederland' (most beautiful (classic) bar of the Netherlands), the final of the Young Chef Award of Euro-Toques Nederland and the House of Spirits pavilion.
Gastvrij Rotterdam focuses mainly on the middle- and higher segment of the hospitality industry. The event welcomes professionals like: chefs, sous-chefs, maîtres d'hôtel, sommeliers, bartenders, barista's, owners and managers of restaurants, brasseries, hotel-restaurants, catering- and traiteur companies, cafés, lunchrooms and managers & buyers from the health care and recreational sector.
The success of the exhibition is mainly caused by the vision Gastvrij Rotterdam has: a real exhibition for and by the hospitality industry. This could be realized thanks to the collaboration with 15 (Founding) Partners and almost all relevant branch organisations and media partners.
To develop and organize a new, high level hospitality tradeshow for one of the important economic regions in the Netherlands. The aim was to become the second trade show in this sector in Rotterdam. Within 2 editions this ambitious goal was realized.
Concept development and Exhibition Management