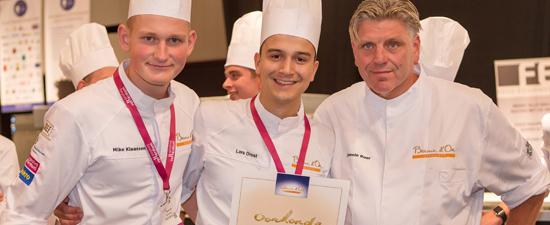 Gastvrij Rotterdam 2017 looks back on a very successful 5th edition in which numerous records have been broken. With 400 exhibitors and 150 prestigious competitions, ceremonies, tastings and demonstrations, the 12,736 visitors were able to orientate themselves in Rotterdam Ahoy for three days on the most important developments in the food and hospitality sector. The quality of the wide range was again higher and also a good reflection of the sector that is again operating at full capacity.
The number of visitors exceeded previous editions, as well as the number of square meters of exhibition space that was used extremely professionally by a wide variety of suppliers of food and non-food, many of them with firsts and novelties. The event presented numerous theme squares and a high-quality program spread over three exhibition days in which several star chefs gave an appearance. The horeca trade fair also had many new initiatives and finals, such as the pop-up restaurant of The Harbor Club, the presentations of the AD 'Gouden Pollepel', a Belgian Pavilion, the combined pavilion Wine & Fine Food with this year The Wine & Food Association as partner and the Dutch Final of the prestigious Bocuse d'Or.
Match+ developed the concept of this new (2013 first edition) trade show for de Foodservice Industry in cooperation with Rotterdam Ahoy, one of the leading venues in the Netherlands.
To develop and organize a new, high level hospitality tradeshow for one of the important economic regions in the Netherlands. The aim was to become the second trade show in this sector in Rotterdam. Within 2 editions this ambitious goal was realized.
Concept development and Exhibition Management