In just less than 2 weeks from now, the IWA World Water Congress & Exhibition 2018 in Tokyo Japan will open its doors! Please find some updated information for your visit to the Exhibition below.
More than 250 (international) companies will exhibit their products and latest innovations in the water sector. Amongst them, over 15 Country and several Thematic Pavilions in which global innovations are shown.
Register now and secure your visit to the IWA World Water Exhibition 2018 in Tokyo, Japan.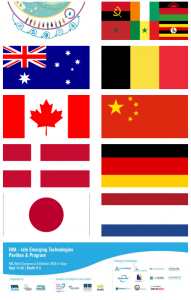 More information on the Pavilions
Benefits of pre-registration as visitor
Pre-registration (instead of on-site registration) has numerous benefits and advantages. Some of them are:
Avoid waiting time: with a pre-registration you can collect your badge at the pre-registration desk at the venue. Given the high interest, pre-registration will avoid longer queues and therefor waiting time for you at badge collection. With a pre-registration a simple and quick badge pick up is guaranteed
Pre-information: with a pre-registration, we will send you valuable information prior to your visit (the week before). This will assist you in planning your visit and having this information before rather than only on-site
Secure these benefits and register now: Register now as a visitor!
What our Exhibitors say:

Through the sponsorship for IWA World Water Congress & Exhibition 2018, we will contribute to work on solving the problems of water and sewage water all over the world, contributing to the creation of stable and safety water environment.
Furthermore, we will contribute achieving SDGs target through our business activities.
We would like to show the latest products, technologies and services that bring together the comprehensive capabilities of Kubota group.
We offer a wide range of products, technologies and services related to "water" from upstream to downstream.
We look forward meeting the worlds leading water professionals at this unique event.