We kindly invite you to visit the exhibition of the IWA 2018 World Water Congress and Exhibition, 17 -20 September 2018 (visitor opening dates) in Tokyo (venue Tokyo Big Sight, West Hall 1).  Meet over 250 global operating water companies, country pavilions and leading edge innovations. A unique event in Tokyo. Some of the highlights:
More than 250 exhibiting (international) companies
As visitor you can attend the Business Forum sessions free of charge
Over 15 country pavilions from countries worldwide with their innovations in water
Special Pavilions on Emerging Technologies, Smart Water, Waterwise Cities
High officials attending from Japan and abroad
The IWA WWCE travels over the world, taking place in Tokyo in 2018, making this a unique opportunity for this region
Free entrance
Find all relevant information as well as floor plan and exhibitor list via this link: http://worldwatercongress.org/exhibition/#FLOORPLAN
Register now as VISITOR free of charge: click here.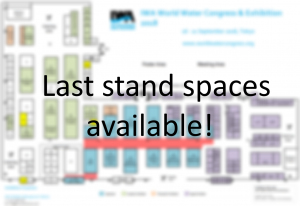 The Exhibition is close to being sold out. Only a limited number of stand space are available. Please find the floor plan with an indication of currently available space via this link: click here
Contact us at the Exhibition secretariat to ask for a proposal, you can contact us via info@iwa-exhibitions.com or call at +31 70 3820028.
For an updated exhibitor list please go to: worldwatercongress.org/exhibitors/
What our Exhibitors say…

Filtteck is proud to participate in IWA World Water Congress & Exhibition 2018 in Tokyo, Japan. We are looking forward to presenting our products and meeting professionals in the field.
With the technology and experience over these years, Filtteck is a leader to manufacture various filter cartridges and bags for liquid filtration. We value IWA WWCE 2018 as a great stage to show our product line and offer you the best filtration solution for water treatment, industry, food and beverage application, also receive your feedback and market information.